What is Fore Hope?
To learn more about Fore Hope, please watch our short video above with Jack & Barbara Nicklaus!
Fore Hope is a nationally recognized, non-profit organization that uses golf as an instrument to improve the quality of life for persons with disabilities, illness, injury, inactive lifestyle and other life challenges. Our organization was one of the first to provide a therapeutic approach to golf by creating a program for persons of all ages, disabilities and economic backgrounds, while assisting them with their physical and emotional development. Mindy Derr founded Fore Hope in 1989 and today serves as Executive Director. Her father, Guy, was the catalyst for the inception of the program. Guy was an avid golfer and became disabled and as an option for hope and recovery, the Fore Hope program was born.
Four Decades of Service
Our organization celebrates four decades of serving persons with disabilities through the vehicle of golf since February 1st of 1989. Fore Hope's priority is to serve those military men and women of all ages and from all conflicts. As an individual processes his / her road to recovery, our organization will be there to educate and provide positive experiences that revolve around defined therapy goals while utilizing golf as the means. Many services of the military are becoming aware of the therapy values of the game through participation, socialization, and competition.
Therapeutic Benefits of Golf
Golf is proven to be good for the soul! This game does wonders for isolation, low self esteem, hopelessness and despair. Through Fore Hope, one can retain a sense of balance in his / her life through an increase in physical activity, social opportunities, outdoor experiences and a return to life's mainstream. Golf enriches lives!
Injuries, disabilities and mental health challenges are prevalent in the military and life as a whole in our society. Fore Hope is here to assist in any way possible.
Fore Hope is now OhioHealth Fore Hope!
We are excited to announce that Fore Hope has joined the 
OhioHealth
 family and is now OhioHealth Fore Hope, joining one of the country's most comprehensive neuroscience programs. 

With OhioHealth's support, we'll be able to continue to offer therapeutic golf programs, focusing on those in our community facing challenges from neurological conditions. 
Stay tuned for additional details regarding our indoor and outdoor programs for 2017. 
Mindy Derr, Advisor
OhioHealth Fore Hope Adaptive Golf
614-566-4242
Melinda.Derr@OhioHealth.com
Fore Hope/Guy Derr Adaptive Tournament
Our adaptive tournament at Safari Golf Club on August 7 was a wonderful event of comradery, competition and fun!
Fore Hope is grateful to our sponsors:
Founding Sponsor - Scotts Miracle-Gro
Supporting Sponsors - Davis Foundation, OhioHealth Rehabilitation Hospital, The Ohio State University
Wexner Medical Center and Cali & Richard Smith III
Friend Sponsors - Good Hands Habilitation Center and Infiniti of Columbus
Our Annual Champagne Breakfast was a HUGE success!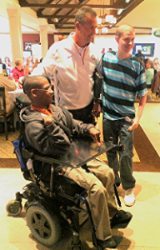 Thank you to our speakers, Coach Urban Meyer and Mr. Walt Dennis, our Emcees Clay Hall and Bill Kelly (from Channel 6 ABC/Fox 28), Auctioneer, Dr. Mike Hurdzan, the multi-talented, Don Keller, Fore Hope's dedicated Board Members and advisors, all of our Guy Derr Leaders, and of course our Founding and Presenting Sponsor, the Scott's Miracle-Gro company!  To our our Friend Sponsors, Fifth Third Bank, The Ohio State University Wexner Medical Center, OhioHealth  and Cali and Richard Smith, we thank you for your investment and belief in Fore Hope's mission!  Also, a huge thank you to Hain Technical, and finally, a special thank you to The Country Club at Muirfield Village and the Memorial Tournament PRESENTED BY Nationwide, because of you as well as the 236 attendees, our event was a HUGE success!!!
How we can help you through our services and programs
Ultimately, Fore Hope participants are better prepared for community reintegration.  Fore Hope's staff, therapists, golf professionals and volunteers have improved the quality of lives of thousands throughout our history.
Sponsors and Supporters
Fore Hope is supported in part by corporations, grantors, individuals, the Guy Derr Leadership Society program, special events, the Memorial Tournament Presented by Nationwide Insurance, Scotts Miracle-Gro Company  and The United States Golf Association.
Note: Fore Hope does not sell, promote or endorse any product, service or vendor.
2015 Kroger Community Rewards for Fore Hope
Help Fore Hope in 2015!

Support Fore Hope by enrolling (or re-enrolling as of April, 2015) as a member of Kroger Community Rewards Program.  All you have to do is shop at Kroger and swipe your Plus Card! and a percentage of your purchases will benefit our organization.
Go to: http://www.kroger.com/communityrewards
and follow the prompts.  If you have any problems, please call Kroger at 1-800-576-4377