Profile of Guy Derr
Guy Derr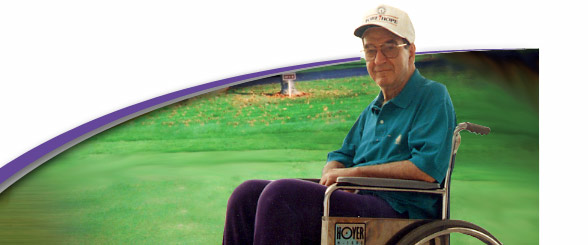 Guy Derr, the catalyst for Fore Hope and THE reason for its inception, passed away on March 10, 2003 in Loudonville, Ohio. An avid and acclaimed golfer with only a two handicap, he was diagnosed with a life-threatening illness several years ago. Golf was his instrument for hope and recovery.
Guy's courage and hope for living were remarkable and his passion for the game was endless. In addition to his love of introducing others to the game of golf, Guy was an extraordinary family man. He and his wife Jean (Haudenschild) raised five children on his farm in rural Lakeville. He also worked as a supervisor for the Flxible Bus Company in Loudonville and raised beef cattle. Guy was a World War II veteran. He is survived by his five children and their families.
Guys' personal strength through his disease has in turn helped many others. His legacy will follow through the continued endeavors of Fore Hope.
Guy Derr Leadership Society
On June 1st, 2005, Fore Hope launched the Guy Derr Leadership Society program at our Fore Hope Memorial Tournament Breakfast. This fund has been established in honor of Guy to support our therapeutic golf programs and offer scholarships for our participants at Fore Hope.
Society members have the opportunity to transform the life of a person with a disability for an entire year. Please join us in 2014 as a Guy Derr Leader with a gift of $1,000 OR in honor of our 25th anniversary, consider a gift of $2,500*. As a Silver Anniversary Guy Derr Leadership member, you will further advance our mission and all Guy Derr Leaders will receive special recognition at our two events;
Fore Hope Annual Champagne Breakfast on May 28th at The Country Club at Muirfield and also at the Fore Hope/Guy Derr Participant Appreciation Tournament, Friday, August 15th at Safari Golf Club.
One may join any time throughout the year, and payment options are available.
With the help of our Leaders, we will continue to provide hope through our many programs for persons with disabilities in central Ohio. For more information, please call our office at (614) 784-1111.