Adaptive Equipment
Adapted equipment for golf is simple, yet very effective. At Fore Hope, we have several different types of adapted equipment that we use with participants. Each piece of equipment is used so that a golfer with a disability can have the same advantages that an able bodied player does.
Adaptive Golf Cars
These golf cars provide a swivel seat which allows access to either side of the cart and is hand operated with a locking / unlocking mechanism. 
These single rider golf cars also provide a tilt handlebar for steering. They have a hand brake, parking brake and forward / reverse gears.  Currently Fore Hope owns four (4) single rider golf cars.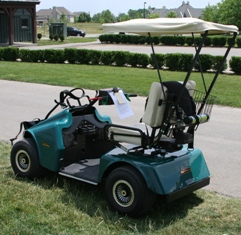 Adaptive Clubs
Fore Hope has irons, putters and woods with lower lie angles for those persons swinging from a seated position. Our putters are adjustable at the putter head for lower lie angles that can be tightened or loosened. The swivel helps the club adjust to different heights, and it can be used from both sides. Fore Hope also has taller putters for those individuals unable to bend over the ball. Tall putters help with balance and posture. Fore Hope recommends lighter weight, more flexible shafts for the majority of our participants.
Fore Hope Adaptive Golf Glove
With a hook and loop strap, mitt design and textured underpads, this adaptive golf glove greatly aids a person with limited arm, hand, and finger strength. Assistance may be needed in fitting the glove onto one's hand and fastening the strap due to amputation, stroke or overall mobility deficits. This glove is ideal for persons who have had strokes, amputations, arthritis, and other weaknesses.
Sizes Available
To fit on LEFT hand - X-Small, Small, Large, Medium and X-large
No gloves for RIGHT hand
A donation of $20 to Fore Hope would be appreciated.
Please contact the Fore Hope office for more information at 614-784-1111.