Guy Derr Leadership Society
Our inaugural Guy Derr Leadership Society Program began at our 2005 Fore Hope Annual Breakfast. The Fore Hope Guy Derr Leadership Society program is named in honor and recognition of Guy Derr, an avid and excellent golfer in northern Ohio known for his talent to the game. Guy was the catalyst and reason for Fore Hope.
The purpose of this Guy Derr Leadership Society is to provide opportunities for clients (new and existing) to participate in our therapeutic golf sessions.
Annually, Fore Hope serves approximately 300 lives in central Ohio. Your continuous gift makes life better for those we serve and assists Fore Hope programs in care centers, health-care treatment centers and those referred from health-related industries, word of mouth, support groups and our website.
Fore Hope operates all year long offering indoor and outdoor programs to those of all ages with a disability, illness or injury. Our therapeutic golf sessions activities:
Adaptive Golf League
Adaptive Golf League - Military
Adult Day Programs
Assisted Living Programs
Care Centers
Education on the benefits of Fore Hope to Health Support Groups
Group Sessions
Individual Sessions
Rehabilitation Treatment Centers - Inpatient / Outpatient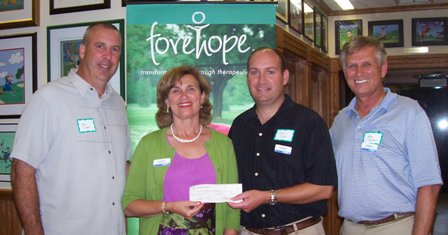 Benefits of the Guy Derr Leadership Society Program
•    Two (2) guest seats at our most prestigious annual event, the Fore Hope Annual Breakfast which coincides with the tournament of Jack Nicklaus.  Our Champagne Breakfast will be held at The Country Club at Muirfield Village on Wednesday, June 3, 2015.  This annual event includes featured speaker PGA TOUR professional(s) and local celebrities.  
•    Complimentary Guy Derr Leadership Flag (suitable for framing) with opportunity to be autographed by breakfast speaker(s) morning of breakfast(s).
•    Breakfast attendance offers complimentary: Two (2) passes for that day's Memorial Tournament event, The Memorial Tournament magazine and parking.
•    Fore Hope is in partnership with the Nationwide Children's Hospital Championship at The Scarlet Golf Course / Ohio State University Golf Club.  You will receive two (2) passes to the tournament to be held the week of September 9-27, 2015.
                                                                                        
•    Be a playing guest of Fore Hope at our annual Fore Hope / Guy Derr Adaptive Tournament.  This year, the unique 8-hole tournament (which pairs Fore Hope clients with community partners).  The event will take place on Friday, August 7, 2015 at Safari Golf Club.
•    Individual / Company name mention on Fore Hope website.
•    Annual membership is $1,000 (You have the option of choosing a payment plan during the calendar year 2015.)
•    All proceeds are tax deductible to the extent of the law and investments directly impact Fore Hope's therapeutic golf programs.
 Program participation is subject to terms and conditions of Fore Hope, Inc. Policy concerning Guy Derr Leadership Society Program.  A copy of the Policy is available upon request.  
Annual Membership in our Guy Derr Leadership Society is based on a calendar year and payments can be made according to your chosen giving plan on a yearly, quarterly or monthly basis.  Credit cards are accepted.  Our timeline for this leadership program begins January through December annually.  All gifts are tax deductible to the full extent of the law.
For more information on becoming a Leader, please call our office at 614-784-1111