Client Testimonials
Joe and Tracie Hannah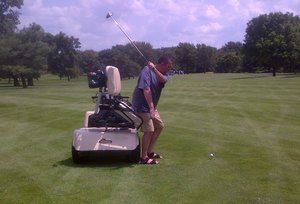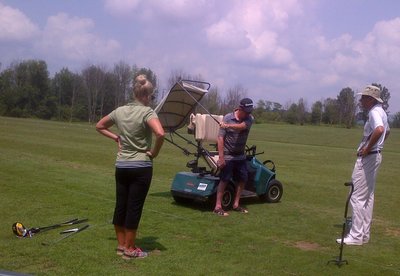 On December 23, 2012 my active, healthy husband suffered a massive stroke.  Nine days earlier he had been helping his brother replace the brakes on his car, the jack slipped and the car fell and crushed him.  His stroke was so severe he was not expected to live but thanks to an amazing surgeon and the grace of God, we were given a second chance.  As a result, Joe suffered paralysis on the right side and severe aphasia.  He basically has had to re-learn how to do everything from walking to being able to communicate.
Prior to the accident my husband was a scratch golfer.  Golf was a big part of his life both socially and mentally.  It was something he knew he was good at, took great pride in and truly loved.
Joe felt that he would never golf again but as he got stronger, I knew that it was important to get him back on the golf course.  Sadly, I could not find anywhere in Arizona that offered a program that combined therapy and golf. After a lot of searching and many phone calls I was lucky to discover Fore Hoipe.  Lisa worked with us to put together a plan for Joe and we hopped on a plane to spend a week in Ohio with Lisa and Brent on the golf course.
For Joe, the benefits of getting back on a golf course are endless.  It gave him the confidence to know that he still had "it".  He could still hit a golf ball, enjoy a bit of competitive bantering with the guys and be part of something he loved.  He quickly learned to use the adaptive golf cart and with that came a sense of independence.  He was able to do this in an environment with a golf professional and therapist who understood what his needs were and made him feel comfortable.  With Lisa and Brent's guidance, he navigated the different surfaces of a golf course which enabled him to work on balance and build the endurance. The rules of golf quickly came back to him and triggered new things in his memory.  I can honestly tell you he now has complete memory of all of the rules of golf and can tell others how to hit a perfect shot.  The golf league provides a great sense of community and for those with a disability that is a beautriful thing!
For us, our week in Ohio was another important step in recovery and an opportunity to not only experience the joy of the game, but to do something normal.  For someone with a disability, every opportunity to be normal and be involved in something that is going to allow you back into the mainstream of life is important.  Our time with Fore Hope was an awesome building block for the future and it is a shame that there are not more programs like Fore Hope out there, expecially for those who love the game of golf.
Diane Clever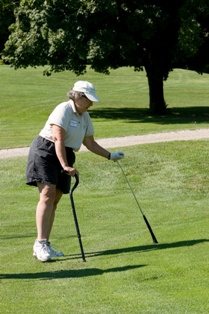 Sports and athletic competition have been a large part of my life starting with softball as early as fifth grade and continuing with volleyball, softball and basketball in high school followed by basketball in college. After graduating from The Ohio State University, I continued to compete in recreational leagues in softball and volleyball plus added golf and bowling as outlets. Even half of my professional life has been involved with physical activity in someway, either as a physical development specialist, a physical educator or a basketball coach.
I recount this long list of physical activity only to emphasis how devastating the diagnosis of multiple sclerosis has been for me. The disease has progressively taken away from me the joy of competing as well as teaching and coaching. A big hole was left in my life.
In 2002, I joined forces with Fore Hope, a therapeutic golf program that has helped to fill that hole for me. Through lessons with their recreational therapist and hints from the golf professionals who work with Fore Hope, I am again able to participate in a sport in spite of the MS.
With Fore Hope, I have not only had lessons, but I have taken part in a weekly golf league with other Fore Hope participants. Each year a tournament is held that pairs an able-bodied golfer with a disabled golfer to produce some good and not so good shots from both as well as a lot of fun and much needed laughter.
Thank you, Fore Hope, for bringing fun and joy back into my life and to, like other golfers, have the opportunity to tell stories and complain about my last missed shot!
Ralph Quellhorst
I was a golfer for over 35 years playing about twice a month. But when I retired in 2003 I began to play about 3 times a week. Three months after I retired I was diagnosed with Parkinson's. I decided that I needed to play to keep my body healthy. But this past summer I began falling quite a bit on the course. I found I was playing less and less because it was embarrassing to have the guys pick me up. Then I heard about Fore Hope from my physical therapists at Ohio Health. After two sessions with the staff of Fore Hope I feel that I can play again without feeling embarrassed. Thank you Fore Hope for helping me to continue play. (Ralph is a retired United Church of Christ Minister)