Client Testimonials
Ralph Quellhorst
I was a golfer for over 35 years playing about twice a month. But when I retired in 2003 I began to play about 3 times a week. Three months after I retired I was diagnosed with Parkinson's. I decided that I needed to play to keep my body healthy. But this past summer I began falling quite a bit on the course. I found I was playing less and less because it was embarrassing to have the guys pick me up. Then I heard about Fore Hope from my physical therapists at Ohio Health. After two sessions with the staff of Fore Hope I feel that I can play again without feeling embarrassed. Thank you Fore Hope for helping me to continue play. (Ralph is a retired United Church of Christ Minister)
Diane Clever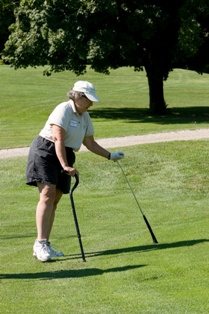 Sports and athletic competition have been a large part of my life starting with softball as early as fifth grade and continuing with volleyball, softball and basketball in high school followed by basketball in college. After graduating from The Ohio State University, I continued to compete in recreational leagues in softball and volleyball plus added golf and bowling as outlets. Even half of my professional life has been involved with physical activity in someway, either as a physical development specialist, a physical educator or a basketball coach.
I recount this long list of physical activity only to emphasis how devastating the diagnosis of multiple sclerosis has been for me. The disease has progressively taken away from me the joy of competing as well as teaching and coaching. A big hole was left in my life.
In 2002, I joined forces with Fore Hope, a therapeutic golf program that has helped to fill that hole for me. Through lessons with their recreational therapist and hints from the golf professionals who work with Fore Hope, I am again able to participate in a sport in spite of the MS.
With Fore Hope, I have not only had lessons, but I have taken part in a weekly golf league with other Fore Hope participants. Each year a tournament is held that pairs an able-bodied golfer with a disabled golfer to produce some good and not so good shots from both as well as a lot of fun and much needed laughter.
Thank you, Fore Hope, for bringing fun and joy back into my life and to, like other golfers, have the opportunity to tell stories and complain about my last missed shot!