Mission, Objectives & History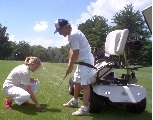 History & Objectives of Fore Hope
Headquartered in central Ohio, Fore Hope's mission is transforming lives through therapeutic golf since 1989. Our organization was one of the first of its kind to provide a therapeutic approach to golf by creating a program for persons of all ages, disabilities and economic backgrounds, while assisting them with their cognitive, emotional, physical and social development. Fore Hope is making a difference! Medical professionals are becoming more aware of the therapeutic benefits of golf. Golf is the viable means by which an individual can rejoin life to its fullest - activity, social opportunities and fun. Mindy Derr, Executive Director, founded Fore Hope in 1989. Guy Derr, former resident of Loudonville, Ohio, was the reason for the beginning of Fore Hope. He was an avid golfer and became disabled many years ago. Guy leaves a legacy to the Fore Hope organization.
Our long range plans
 

Serve More Participants - Expand our outreach to assist more persons with disabilities as the need is ever growing with an aging population

Increase Sustainability - Fore Hope's goal is to continue to add new investors through our Annual Champagne Spring Breakfast, Adaptive Golf Tournament and The Guy Derr Leadership Society Program. A planned giving program is underway at Fore Hope.
Expand Relations  - With the Medical, Military and Golf Communities - Through expansion of these relationships, Fore Hope will better serve more persons with disabilities with a wider scope of support.
Enhance Quality of Fore Hope Programs - Improved year round programs will be offered with an increase in design of our curriculum alongside additional professional and support staff, trained volunteers and intern.
Financial Supporters
People and organizations of which appreciate and or play golf, understand the benefits of the game, or like the uniqueness of Fore Hope and can envision the positive outcomes of participation through our organization.
Referral Audience
Participation in Fore Hope comes via referrals of family and friends of those with disabilities, inpatient and outpatient treatment centers, medical staff, support groups, website and word of mouth.
Please call our office at 614-784-1111 or email forehope@forehope.org if you would like more information on Fore Hope.